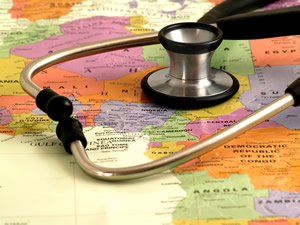 International and Travel Health has become increasingly relevant to healthcare delivery in Nigeria given the tremendous international traffic across our borders on a daily basis. Kwara State has had its fair share of local travelers and particularly, international visitors.
Olanrewaju Hospital is uniquely positioned to provide
related services and has a track record of excellence
in delivery of related clinical care and research in travel/international medicine.
Dr. Idowu Olanrewaju is a recipient of a number of travel fellowships and has been clinical consultant to a number of international organizations over the years. He is a fellow of the Royal Society of Tropical Medicine and Hygiene and has authored an article in the Journal of Travel Medicine.
Our local and international clients are also assured specialist care where indicated given our rich network of national and international consultants in multiple specialties, who are leading scholars in their fields.
We invite you to request an appointment via email or walk-in for a routine or emergent consultation.
Our services include but are not limited to pre-travel consultation, vaccinations, malaria prevention and treatment. Travel kits will be recommended on a case-by-case basis where necessary.
For a quick travel health reference, visit: http://www.istm.org/documents/about/tips-for-intl-travel.pdf